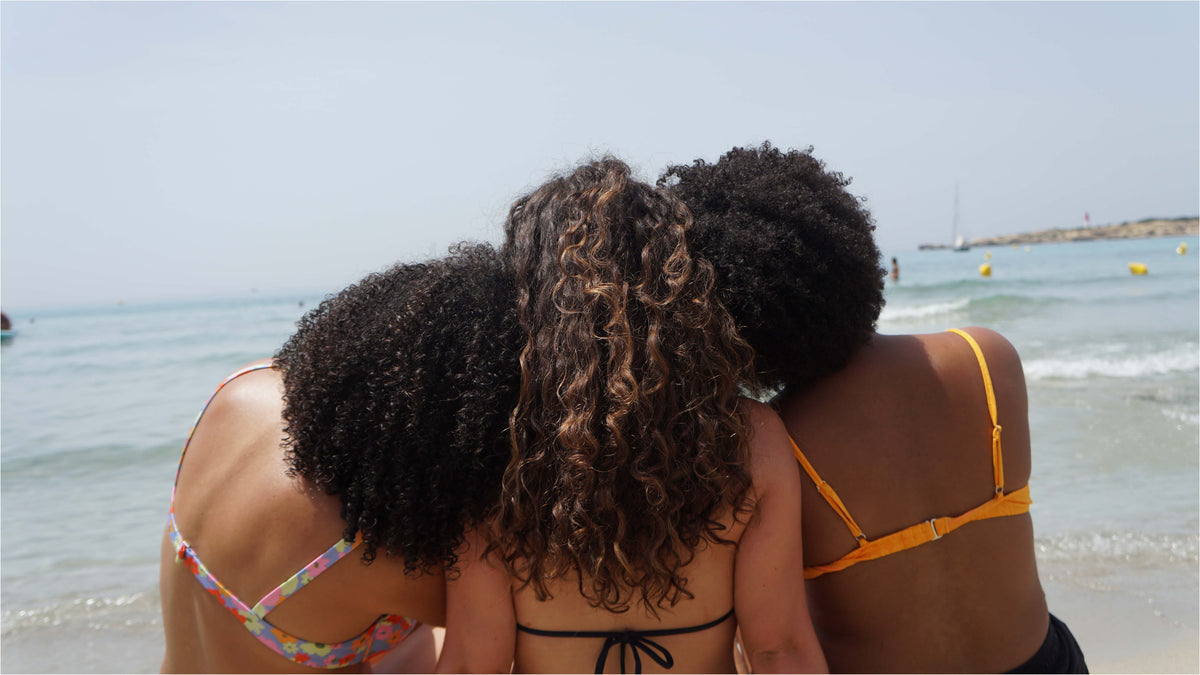 Moisturize your curly & textured hair in summer
In summer, we know that our hair tends to suffer more than the rest of the year. Sea salt, chlorine from the pool, sand, sweat and sunlight are all external aggressions that weaken all hair types (straight hair, but also textured hair). The problem is that textured hair (curly, wavy, coily and kinky hair) is already dry and needs a lot of moisture, nutrition and protection. So you can imagine that in summer, it needs an adapted routine!

So how do you keep your curls looking good? How to moisturize textured hair in summer? How do you keep your hair shiny and your curls perfect? We'll explain it all right below!
How do you seal in moisture to your naturally textured hair in the summer?
To moisturize your textured hair in summer, we recommend a 4-step routine:
moisturize curls daily

co-wash after water activities

protect and strengthen hair fiber with natural products

purify the scalp and hair after vacation
In addition to this special curly hair summer routine, remember to protect your hair with a hat or braids whenever you are in the sun. Also, let your curls air dry!
1 - Leave in: moisturize your curls with a natural product
To moisturize your hair every day, we recommend 3 products:
the Boost Curl, a hair gel that moisturizes and fixes curls

the Smoothie Ananas, un lait capillaire qui nourrit, protège, adoucit et limite les fourches

the Kurl Potion, a leave-in that structures curls and limits frizz without weighing hair down
2 - Wash with a conditioner
Have you heard of the co-wash? This practice consists of washing your hair with a conditioner! After each water activity, start by rinsing your hair with clear water, then apply the Cream Conditioner or the Pink Paradise. Leave in for a few minutes before rinsing! Your hair will be free of salt and sand and will benefit from a moisturizing treatment.
3 - Protect, nourish and strengthen with a natural mask
Once a week, after shampooing and conditioning, the Repair Time mask will moisturize, repair and nourish your textured hair in depth. With it, hair is strengthened and shinier.

You can also use the Cocktail Curl Remedy, a moisturizing spray filled with natural ingredients that repairs the hair in addition to protecting it from UV!
4 - Purify hair when you get back from vacation
The vacations are over? We don't stop there in the care! To get back on track, why not purify your curls and scalp with a mask like Tropical Detox? With it, say bye bye to toxins and impurities accumulated during the summer.
In summer, we also moisturize our skin!
In addition to taking care of your textured hair, it's important to think about moisturizing your skin in the summer! Indeed, the sun is known to accelerate skin aging. Moisturizing and protecting your skin in the summer helps to slow down this effect and keep your skin healthy! So, how to moisturize your skin naturally in summer?

Here are our tips:
Drink plenty of water throughout the day.

Choose fruits and vegetables over cold cuts and chips!

Refresh yourself with mists and floral waters.

Moisturize with a serum or a vegetable oil.

Don't forget to remove your makeup every day, even if you don't wear makeup!

Opt for a cream rich in moisturizing ingredients like aloe vera gel or vegetable glycerin.

Think of night masks!

Don't be light on the sun cream and after-sun lotion.
Moisturizing your skin and hydrating your textured hair on vacation now has no secrets for you!