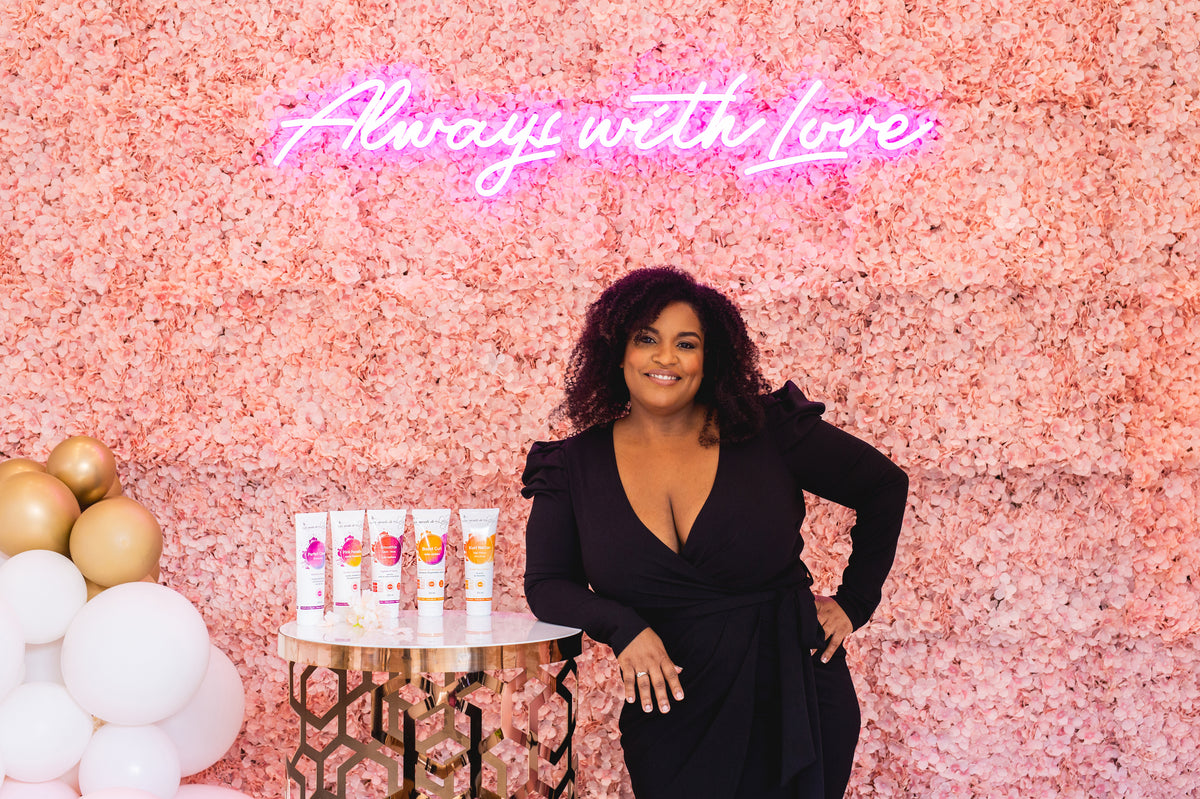 Les Secrets de Loly's success
Created in 2009 by Kelly Massol, Les Secrets de Loly started in her kitchen with love, passion and willingness to help people with textured hair.
After more than 12 years and 15 products in her range, Les Secrets de Loly stands out on the natural hair market in France! We tell you its story.
Our founder : Loly's story
From her real name Kelly, It is at the age of 5 years old that her uncle gives her the nickname Loly Spoon which she keeps and cherishes particularly. Passionate about natural homemade cosmetics since she was a child, Loly quickly realized the lack of natural products and the lack of involvement of brands in general for people with textured hair, i.e. wavy, curly, coily and kinky hair.
She started by create a blog that she named "Boucleetcotons" and a forum to help this community to exchange everyday with benevolence.
With nearly 10,000 active members who want products that match their needs, Loly wanted to help these women and men. That's how Les Secrets de Loly was born!
« From frustrated curly to fulfilled woman, there is only one step: the right gestures and the right products, that's how the gourmand and generous Les Secrets de Loly range was born. »
It is quite naturally that she turned to entrepreneurship to help all the people in her case : in search of adapted and natural products.
At first, homemade products at home, with ingredients that she knew and loved, then she realized that the demand was so great that she had to industrialize her process! Finding the right lab that matches her values, with packaging environmentally friendly, responsible production chains… As many subjects that were and still are today, for Loly, non-negotiable for her brand development!
Today, she is solicited for TV shows, podcasts, conferences and her daily life is punctuated with her family life, her real estate investments and the development of new products.
Because yes, Les Secrets de Loly may be evolving at high speed, but Loly is not abandoning her lifelong passion: cosmetics!
Our communication: diversity and benevolence
Our reputation has grown with the creation of important partnerships in our history such as collaborations with beauty boxes like Blissim or emblematic brands like Venus & Gaïa or Aglaïa & co. We have also collaborated with influencers such as La Petite Gaby, Its Crazy Sally or Flora Coquerel.
A great way to celebrate the beauty of textured hair!
"Today, 3,000 LSL products are sold every day!"
It was a first in the textured hair market: a Prime Time ad on a national channel! In 2020, Les Secrets de Loly realized its first TV and metro advertising campaign. Seen by 2.5 million people on the TF1 group's channels, the ad is the brand's first spot, and certainly not the last... Even during the French confinement, our ad in the Parisian metro challenged and aroused pride in every person who identified with it. Our 5 influencers Armelle Brown, The Pretty Usmu, La Belle Boucle, La Petite Gaby and Mariecooles were displayed for two weeks in the Paris metro in 180 stations!
Our commitment: natural and transparency
The purpose of the brand since the beginning is to propose natural products, with gourmand scents and accessible to all. That is why none of our products contain petrochemical ingredients and therefore no active ingredients that can alter the health of the hair. Say goodbye to sulfates, silicones, alcohols, mineral oils and colorants and enjoy the benefits of mango butter, raspberry vegetable oil, keratin or sweet almond! Find out more about our commitments in the dedicated article.
In terms of customer relationship, a single watchword: satisfaction. All the LSL team works hard to give a reactive and listening customers and commercial service and also a clear and transparent communication. That's why we are very active on our social networks: Instagram, Facebook and TikTok, but also by email. For our professional and corporate news, our LinkedIn account will immerse you further in Loly's World!
Do you want to follow the LSL adventure? See you on our social media!