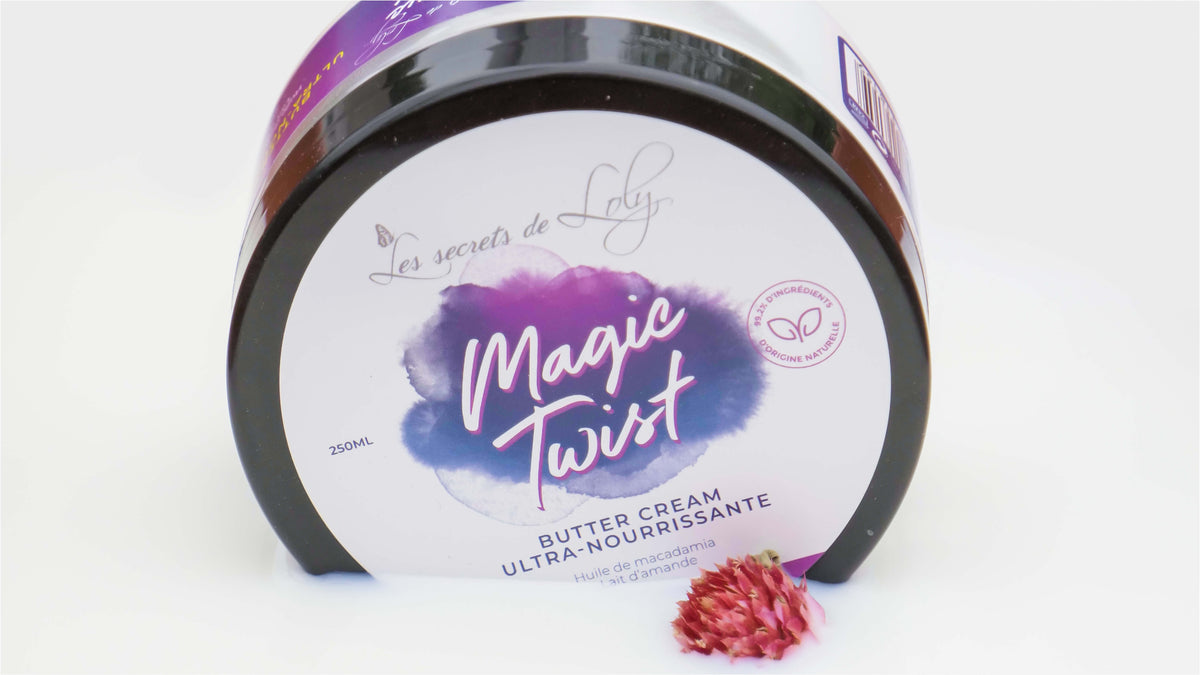 Magic Twist: nourishing buttercream for kinky hair
Looking for a buttercream to care for your kinky hair or to make your hair protective? The Magic Twist is the most nourishing product in the line that will strengthen kinky hair during their hair routine. It can also be used by people with curly and coily hair. We explain all the benefits of Magic Twist:

Its composition: nourishing and softening
Designed for kinky hair, the Magic Twist contains many rich and nourishing agents. The macadamia vegetable oil will nourish and protect the hair fiber and the soybean oil will soften and make the hair shine. On the humectant side, this buttercream contains almond milk protein that will moisturize and strengthen textured hair. For a more important and daily hydration, do not hesitate to apply one of the Smoothies before the Magic Twist. Its moisture will then be sealed by the nutrition of the buttercream. Together, these two products allow hair that needs more nutrition to be more supple, softer and above all stronger!
To understand why hair needs more nutrition than wavy hair for example, read this article.
Its benefits: reinforcement and protection
Unlike other styling products,the Magic Twist does not need to be used every day, on the contrary. Its concentration of nourishing and protein-rich active ingredients will provide hair with enough nourishment for several days and limit breakage week after week. For very damaged hair that tends to break very quickly, don't hesitate to use the Sérum Croissance in oil baths for a deep nourishing contribution.
Its use: up to 2 times a week
The Magic Twist pcan be used in several ways for kinky hair, but we recommend not exceeding 2 times a week because it is a very rich product and it could make fine hair greasy if it is applied too often:
Right out of the shower, after applying your favorite

Smoothie, take a dab of the buttercream to nourish and seal in moisture.

Between shampoos, especially if you wash less than once a week, you can apply a dollop of Magic Twist to refresh and nourish your kinky hair.

During the realization of your protective hairstyles, it will be your best ally for tied or braided hair but healthy and flexible.
For curly and coily hair that is also doing protective styles, you can apply dabs of Magic Twist. But be careful with fine hair, which can get greasy more easily.
The tips of the team Les Secrets de Loly
When you have a pretty hairstyle, you can re-nourish your hair by putting a little Magic Twist on the surface.


*Of the three Smoothie scents, only the Smoothie Ananas is suitable for children and pregnant and nursing women because it contains no essential oils.