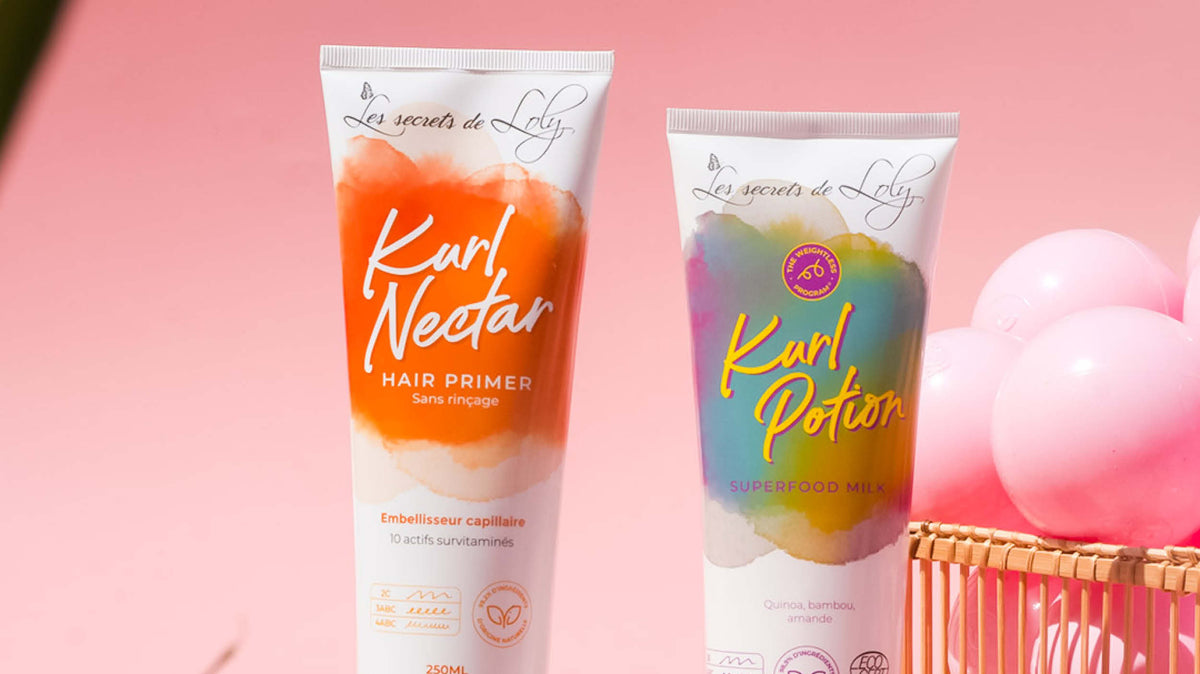 What is a leave-in?
Are leave-in or leave-in conditioner terms that you hear regularly when you learn about forums, Instagram accounts, Tiktok? It's normal, it's the perfect product to hydrate, structure and prepare your hair to receive styling products dedicated to nutrition and styling.
Care in its own right and yet without rinsing necessary, you will not be able to do without it! We'll explain everything here :
Leave-in treatment
A "leave-in" which literally means "leave in", is a leave-in treatment designed to provide hydration, reinforcement and structure to
wavy
,
curly
,
coily
and
kinky
hair
. Because each texture can apply it, at the start of its blowing routine:
for

wavy and curly hair

, a leave-in plus

a hair jelly

will be enough to hydrate, define and protect the curls without weighing them down.

for

fine coily hair

, the styling routine can be identical to curly hair, while for rather thick curly hair, leave-in can be applied before

Boost Curl hair jelly

(there to protect) and

Smoothie hair milk

(used to seal in hydration).

for

kinky hair

, you can apply a leave-in before your

Smoothie hair milk

and your

Magic Twist buttercream

to respectively provide structure and reinforcement, hydration and nutrition.
Rich leave-in
Composition
Kurl Nectar is one of Secrets de Loly's best sellers, and for good reason! It is the product that is suitable for all textures and allows you to strengthen and deeply hydrate the fiber without having to make a rinse-off mask. Composed of humectants, hydrating, nourishing, repairing, detangling and restructuring agents , it will not need to stay put or rinse. Aloe vera, glycerin and honey will hydrate and soften the hair while cocoa and cupuaçu butters and vegetable oils will nourish and strengthen them. Provitamin B5 will restructure and strengthen the fiber from the inside.
Benefits and uses
Kurl Nectar can be used on its own once or twice a week to condition, strengthen and shape your textured hair. It can also be applied as a base before your styling products. Apply it to wet hair after your washing routine, section by section.
So you can apply it before the Boost Curl jelly to style your curly hair or your wavy and thick hair. For coily hair, apply before Boost Curl and your favorite Smoothie*. For kinky hair, it will therefore be before your Magic Twist Smoothie and buttercream.
Light leave-in
Composition
The Kurl Potion is the latest in the range, includes the Weightless Program. This superfood milk made from bamboo and quinoa will soften and protect the hair from environmental stress while the sweet almond vegetable oil will facilitate detangling. The olive will serve as a finish to soften and shine.
This complex will therefore make it possible to structure each fiber to reveal natural curls and bring them volume and shine without weighing it down .
Benefits and uses
Designed for all types of textured hair looking for more lightness and volume, the Kurl Potion brings the necessary hydration to porous and fairly fine hair. It will strengthen and protect the fiber for revitalized and hydrated hair!
Wavy, curly hair can apply it before the Boost Curl. For very fine coily and kinky hair or looking for more volume, you can use it instead of Smoothie.


All you have to do is choose the leave-in that suits you best!
*
Among the three Smoothie scents, only the
Smoothie Ananas
is suitable for children and pregnant and breastfeeding women because it does not contain any essential oil.