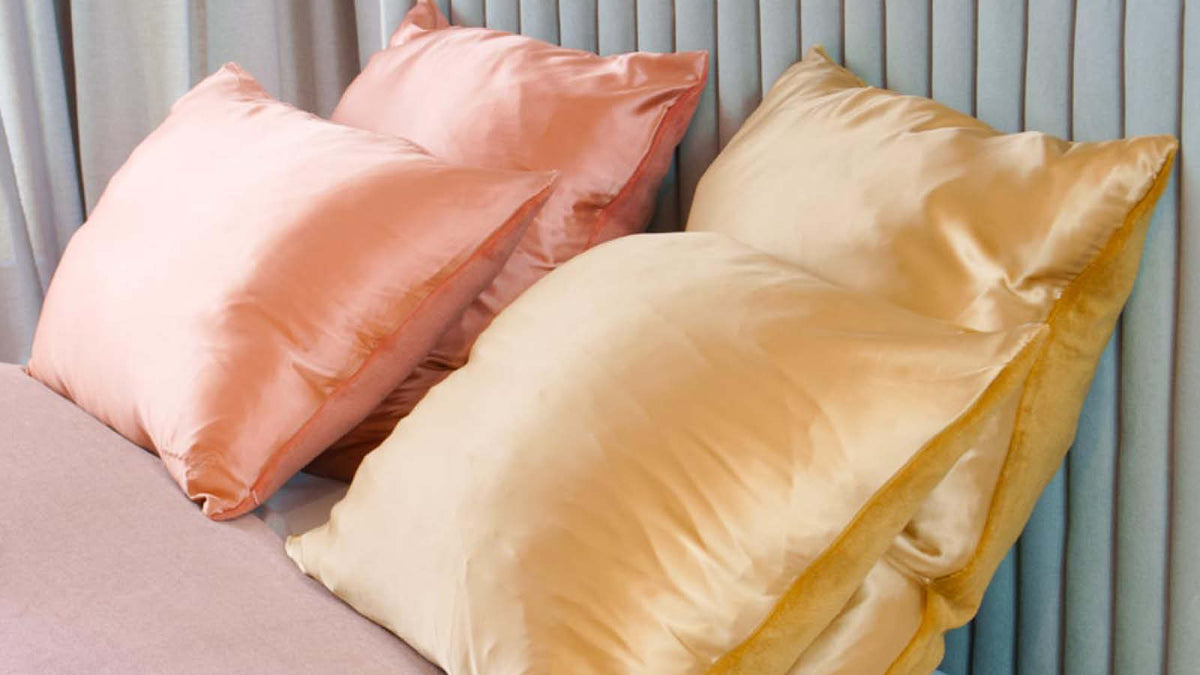 Kiss Pillow: the anti-frizz pillowcase
You asked for it, here it is! Our first pillowcase designed to protect and soften the fiber of kinky, coily, curly and wavy hair! With a little extra: a 100% silk side and a 100% microfiber side. Something to adapt your bedtime to your needs and your feelings!
In addition, you have the choice between 2 colors and 2 sizes of pillowcase! Something to sleep on both ears, gently!
Its composition: protection and softness
The Kiss Pillow is made of a double texture (like many people with textured hair yes!): silk and microfiber.
Just like with our favorite Skurlchies, pure mulberry silk will maintain the natural hydration or provided by hair products in the hair. You will thus limit frizz on waking and regain softness and suppleness.
The microfiber side recalls the softness of our Kiss Towel, the microfiber towel. During your sleep, this extra-soft part will wrap your hair in a "safe place" and thus limit breakage and split ends .
Our Kiss Pillow is OEKO-TEX Standard 100® certified, which guarantees the absence of toxic substances.
2 colors are available: rose gold or caramel. And each color is available in 2 sizes: square 65x65cm and rectangular 50x70cm.
Its use: every day without counting
You can put your Kiss Pillow on the long term to find your soft hair when you wake up daily.
Before going to sleep, remember to apply a dab of styling product to protect your hair fiber:
For

wavy

or

curly

hair

, opt for the

Kurl Potion

. This light leave-in will strengthen and hydrate your fiber all night long.

For

coily

hair

, one of our

Smoothies

* will be ideal to provide the right dose of hydration and nutrition before your more or less hectic nights

For

kinky

hair

, the

Smoothie*

will also be the most suitable to protect your natural fiber. If you are doing a protective hairstyle, you can apply a little

Magic Twist

.
Be careful, however, not to apply too much product before bedtime, especially for fine hair, at the risk of ending up with oily hair when you wake up!
We spend on average a third of our life sleeping, take the opportunity to make it a moment of care!
Maintenance tips
We recommend that you wash your Kiss Pillow every two weeks, or more if you often apply products before bed.
In order to preserve it over time, we advise you to wash it inside out in a washing net at 30°C in a delicate program or hand wash, with similar colors so that it retains all its softness.
For drying , it is not recommended to fold or crease it and put it in the dryer. The best will therefore be flat or extended to a hanger for example and in the open air.
We advise you to refer to the label inside your pillowcase for more details.
Tips from the LSL team
If you want to apply a styling or protective product before going to bed, we recommend the silk side which does not absorb your care: the natural enzymes it contains on the contrary increase its effects.
*Among the three Smoothie scents, only the Smoothie Ananas is suitable for children and pregnant and breastfeeding women because it does not contain any essential oil.