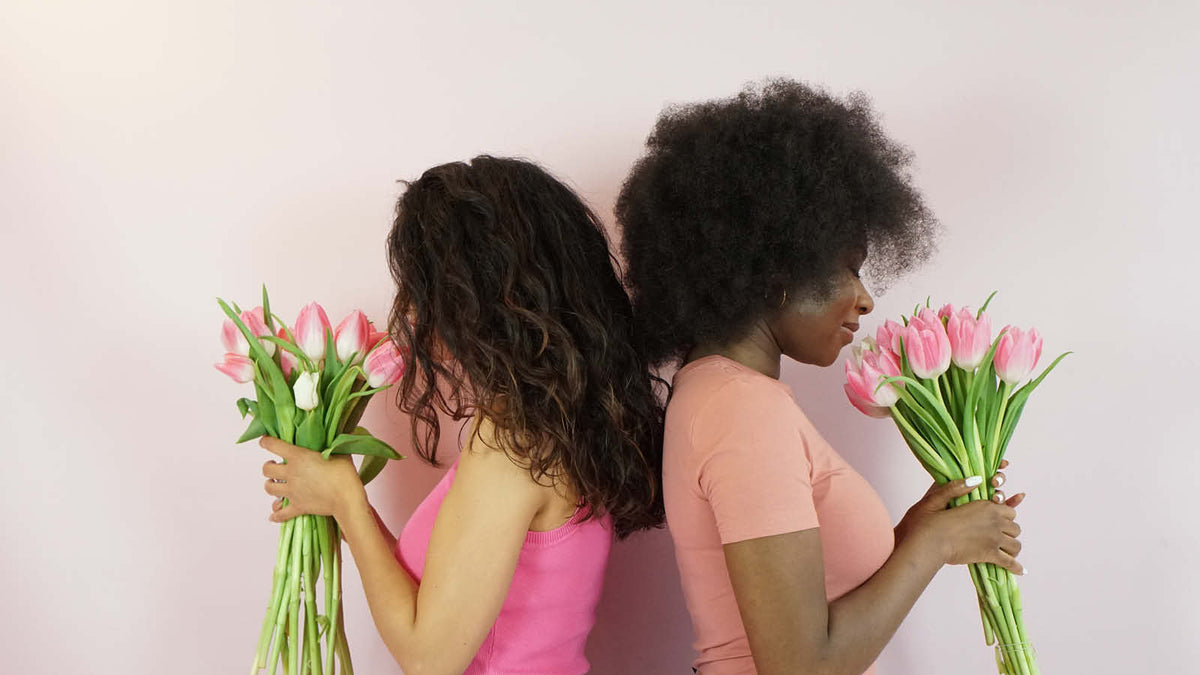 The difference between moisture and nutrition
Not a day goes by at Les Secrets de Loly that we don't talk about this important and essential topic for understanding textured hair: moisture AND nutrition. They are often confused and sometimes opposed. But the idea is to know how to distinguish between them to balance their contribution to each texture. They are very different and above all complementary for healthy, supple and strong hair! We explain everything in this article:
Understanding the difference between moisture and nourishment
Moisturising: softening and smoothing
Moisturising makes the fibre more supple and therefore guarantees more bounce to the hair. This gives the hair better definition and, in the long term, makes it softer and easier to detangle. The main moisture ingredients are present in the vast majority of our products: aloe vera, glycerin, honey...
They are found in our Repair Time moisturising mask, which provides deep moisture for a more supple hair fibre week after week. All our our shampoos have a high moisture content coupled with other ingredients to meet all needs. From the richest to the lightest: Perfect Clean, Sunshine Clean, Bubble Dream (suitable for children), Perfect Match. Our two detanglers Pink Paradise and Cream Conditioner will detangle and soften the hair fibre for tough knots or lighter knots respectively. Our leave-ins and hair milks will also be packed with moisture for daily bounce:
Nourish: strengthen and prevent breakage
Nourishing your hair means giving it strength and making it less fragile. Stronger and more reinforced hair will break less and therefore grow better. Nutrition allows the hair to strengthen itself from within in order to face external attacks. Vegetable oils, butters, proteins... many fatty substances and rich components to strengthen the hair.

The must-have product of the range for strengthening all types of texture is the Sérum Croissance**, with its 6 plant oils and 6 essential oils to be used in 3 different ways. For styling products, the ultra-nourishing Magic Twist buttercream is especially suitable for coily or kinky hair. For all types of textures, you will also find nutrition in the Cocktail Curl Remedy spray with its raspberry oil and keratin to strengthen very damaged hair.
What does my hair need?
Dull, frizzy, frothy hair: lack of moisture
Dry, brittle, split hair: lack of nutrition
It is important to know that each hair texture has its own characteristics and its natural need for moisture and nutrition. Once you understand all this, it is up to you to observe your fibre on a daily basis:
Kinky hair

is the most fragile texture because of the very regular curl. It therefore naturally needs nutrition to strengthen the hair fibre.

Curly

and

coily hair

that is both swirly and relaxed needs a combination of moisture and nutrition to soften the fibre and give it bounce while preventing breakage.

Wavy hair

that is much more relaxed and therefore naturally less brittle needs more moisture than nutrition.
In short, both are necessary for healthy hair, but it is important to choose the right amount depending on your texture and how you feel about your textured hair on a daily basis.
The tips of the team Les Secrets de Loly
Even if each texture has its own predestined characteristics, no hair is the same and above all no hair stays the same. With the right balance and regular care, each hair can evolve in its own way. We advise you to take the time to get to know your hair and to give it what you think is best for it.
If you still have any doubts about your texture or its health, don't hesitate to send a message to our hair expert on Instagram or Facebook.


*Parmi les trois senteurs de Smoothies, seul le Smoothie Ananas est adapté aux enfants et femmes enceintes et allaitantes car il ne contient aucune huile essentielle.
**Le Sérum Croissance est déconseillé aux enfants et femmes enceintes et allaitantes car il contient des huiles essentielles.