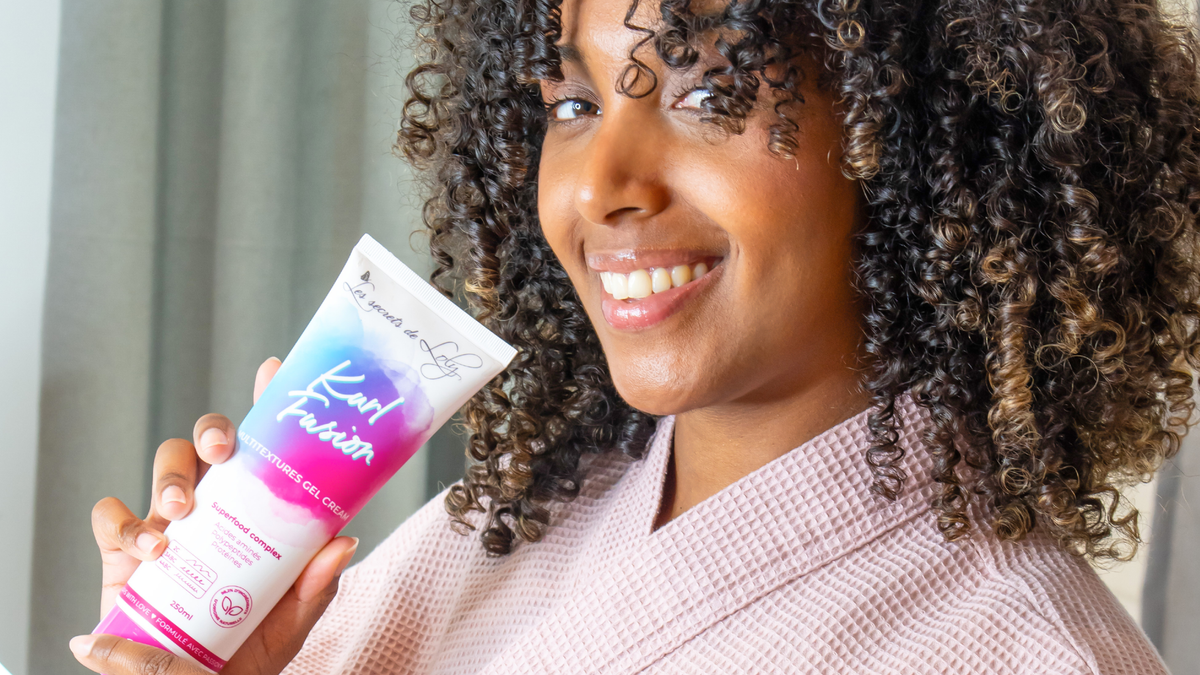 The Kurl Fusion: the essential for the multi-texture routine
Léonie Daigremont
05/11/2023
Kurl Fusion is a leave-in suitable for multi-textured hair that nourishes , hydrates and limits frizz , all while providing definition to the curls . How do you know if you have multi-textured hair? If you find strands on your head that don't have the same texture as your usual texture, it's very likely that you have multi-textured hair. In this case, the Kurl Fusion is the one for you!
Its complex of revolutionary ingredients make it a true 3-in-1 leave-in that enhances your multi-textured hair in one application! To find out more about Kurl Fusion , we have written an article on its use and benefits, which can be found here .
But then, how to integrate Kurl Fusion into your hair routine?
Kurl Fusion: a multi-textured leave-in styler
Kurl Fusion is a styling product to integrate into your hair routine after cleaning and detangling your hair. It integrates perfectly with other Les Secrets de Loly products thanks to its texture which combines the nutrition of a milk , the hydration of a jelly and the styling of a gel . This leave-in then allows you to meet the needs of all the textures present in your hair!
Kurl Fusion is made up of powerful ingredients :
Chickpea extract

: rich in amino acids, polypeptides and proteins. This ingredient provides lasting "curl retention".

Mango butter

: nourishes and prevents the formation of split ends.

Jojoba wax

: revitalizes and makes the lengths shine.

Sweet almond oil

: softens and facilitates detangling.

Aloe vera

: hydrates the hair fiber.
Personalize your routine according to your needs
Rebound & definition
The chickpea extract present in Kurl Fusion helps optimize retention and keeps hydration in the hair fiber . Results ? Silky hair and bouncy curls . If you want more definition over several days, pair the Kurl Fusion with the Boost Curl .
Apply Kurl Fusion after your washing routine to hydrate and nourish your hair. Pour a dab of product into your hands and heat the material before applying it to your lengths, section by section. Finally, to perfectly define your curls , use the Boost Curl as a final touch. To you magnificent curlies !
Strengthening and nutrition
The mango butter present in Kurl Fusion provides nutrition to the hair and strengthens the hair fiber . Sweet almond oil, also present in the formulation, intensely nourishes and adds shine to the hair . The nutrition provided by these two ingredients is perfectly suited to several textures, particularly frizz which needs to be more nourished.
To provide additional nutrition , we advise you to combine a leave-in with Kurl Fusion after your washing routine.
If you have wavy hair , apply Kurl Potion then Kurl Fusion . For those with curly hair , Kurl Nectar then Kurl Fusion will be perfect if you want to nourish your hair. For curly hair , use Kurl Fusion then Smoothie for the final touch. Finally, if you have frizzy hair , first apply Kurl Fusion then Magic Twist to protect and deeply nourish the hair fiber.
Finally, scrunch to correctly define your pretty curls . That's it !
Express routine
If you don't necessarily have time, Kurl Fusion can be applied alone after the washing routine. It allows you to finish your hair routine in style and shorten your hair routine in 3 quick steps for those in a hurry among you!
Tips from the LSL team
Kurl Fusion can be applied in the case of a refresh !
Need to redefine your curls in the morning or before going out? Dampen your hair with a spray bottle. Use Kurl Fusion by applying it to your lengths then scrunch to define and fix your curls. Then dry your hair in the open air or with a diffuser.