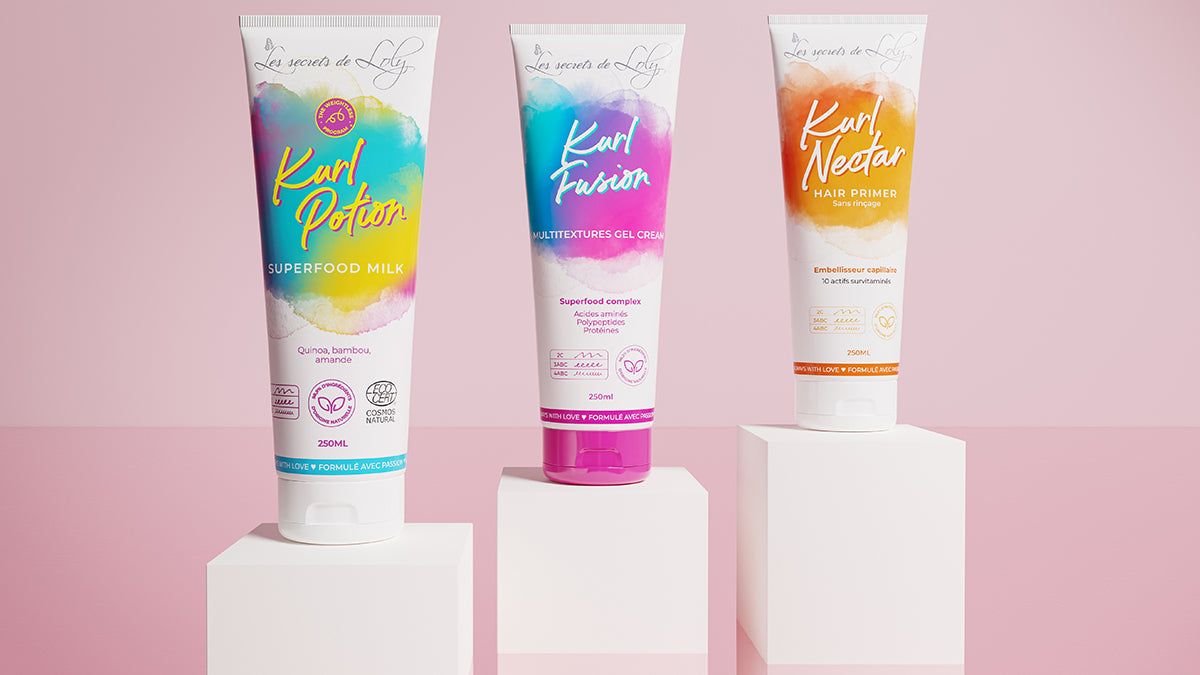 What are the differences between Kurl Potion, Kurl Nectar and Kurl Fusion?
Léonie Daigremont
12/11/2023
Kurl Potion , Kurl Nectar and Kurl Fusion are leave-ins , that is to say leave-in treatments that moisturize , strengthen and structure textured hair . To find out more, go to our article which explains in detail what a leave-in is, its benefits and its uses.
Since the release of Kurl Fusion , many of you have asked us about the difference between our 3 leave-ins . You are totally right because they are totally different and are not suitable for the same hair. We explain everything in detail in this article !
Kurl Potion : leave-in for fine hair
This leave-in was created for fine hair that needs hydration , lightness and volume . It provides better structure to the curls and better volume to your hair. Kurl Potion promotes the formation of bouncy curls, improves the density and texture of the hair without weighing down the hair. This leave-in is an ultra-hydrating and revitalizing complex . It is possible to apply it every day to wet or damp hair (after your washing routine and/or when refreshing). The pleasant tutti frutti scent of Kurl Potion makes application intoxicating.
Looking for a better definition ? Apply Kurl Potion then Boost Curl for wavy, curly and coily hair to fix your curls and further hydrate the hair fiber. Finally, if you have frizzy hair, use Kurl Potion and Magic Twist.
Kurl Nectar : ​​leave-in for thick or damaged hair
Composed of 10 supercharged active ingredients , this leave-in detangles , nourishes , repairs , hydrates and restructures . Suitable for curly, frizzy and frizzy hair, Kurl Nectar perfectly reshapes curls . Its scent of pomegranate pulp makes its application so pleasant that you won't be able to do without it.
This leave-in is a very rich treatment , so it is perfectly suited to very damaged and/or thick hair . If you want to fix your curls, complete your hair routine with Boost Curl .
Kurl Fusion : leave-in for multi-textured hair
Our new leave-in is suitable for multi-textured hair . To learn more about multi-textured hair, find our article right here .
Kurl Fusion is our richest leave-in compared to Kurl Potion and Kurl Nectar. It combines the nutrition of a milk, the hydration of a jelly and the styling of a gel. Its sweet piña colada scent transports you straight to the sun. It nourishes and defines your curls so that they are sculpted and bouncy for several days. Its composition is rich in proteins , polypeptides and amino acids which are ingredients that limit frizz and protect against humidity.
You can apply it alone or with the Boost Curl if you are looking for a maximum bouncy effect or otherwise apply the Kurl Potion or Kurl Nectar before for more hydration and/or nutrition.
Tips from the LSL team
To
sculpt
and
fix your curls
, apply your leave-in then the
Boost Curl moisturizing jelly.
It will seal the hydration in the hair fiber for bouncy and silky curls.