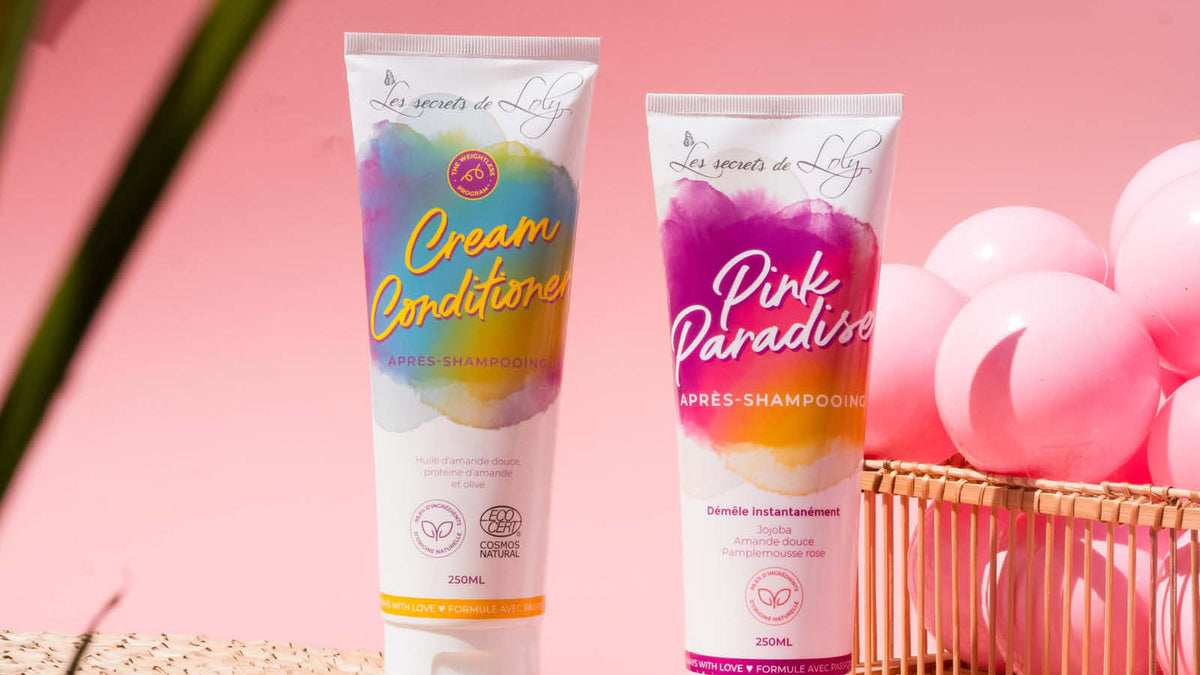 Different ways to use conditioner
For many of the people on the Les Secrets de Loly team, using a conditioner is their favorite part of the wash! Detangling, brushing, feeling your hair soften, a moment of intense relaxation before getting out of the shower. Because a conditioner, as its name suggests, is applied after washing with shampoo to detangle and close the scales, but that's not all! Co-wash, no-poo, leave-in time... with one product, vary the hair pleasures!
Basic use: detangle and close the scales
We all know the main use of conditioner: to finish the wash and moisturize the fiber in order to help knots slide out and soften the hair after drying it out with a shampoo. To minimize breakage of your wavy, curly and coily and kinky hair and allow knots to be gently removed, remember to detangle with your fingers or hair brush when it sets. You can leave it in for 1-5 minutes. pose. Pour pouvez tout à fait le laisser de 1 à 5 minutes.
For the most tangled textured hair, the Pink Paradise will be your savior and for fine hair or hair looking for volume, choose the Cream Conditioner.
Alternative to shampoo: co-wash & no-poo
To remind you of these two techniques that we are particularly fond of at Les Secrets de Loly, co-wash est is the fact of cleaning your hair with only with a conditioner in order to space out your shampoos as much as possible. Cette This technique can be used on an occasional or regular basis and allows you to start from scratch with your routine for people who want to wash several times a week, with several sports sessions for example.
The no-poo is more of a long-term technique to stop (or limit) shampooing. Cleansing with conditioner is therefore part of a list of techniques just like powders or DIY clay-based products like rhassoul or green clay. This technique aims to limit washing so that the scalp learns to regulate itself.
Difficult but useful, we recommend it for hair that tends to get greasy quickly after shampooing.
Fine or oily hair: light care
If you're going through a period with oily hair or simply find your conditioner too rich, don't throw it away! Use it as a treatment before your shampoo by leaving it on like a classic mask, ideally for up to 20 minutes. Of course, you can detangle with the Magic Brush while it sets or give yourself a little time for your skin.
Rinse and start your styling routine!
The tips of the team Les Secrets de Loly
For better detangling of wavy, curly, coily and kinky hair, don't hesitate to leave the conditioner of your choice on for a few minutes, detangle before rinsing.